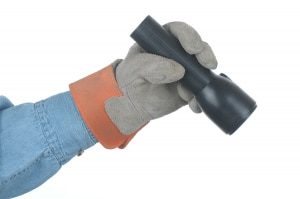 Forget the new set of slippers or bathrobe. Looking for the perfect gift for that special someone in your life that loves a good DIY project? Our expert staff will happily help put together the ultimate DIY pest prevention kit, which includes one of our trusty Bug & Weed Mart sprayers and a mix of pest and weed prevention supplies to target your worst invaders for a bug free holiday season.
Seriously, we understand that Bug & Weed Mart may not be the first retailer that comes to mind during the holiday season unless you're dealing with a pest infestation or trying to rid your garden of weeds before the party you have planned, but you might want to consider a few of our gift giving suggestions.
To keep the New Year bug free, our army of elves (aka Bug & Weed Mart staff) have perused our store shelves and found some great stocking stuffers to consider:
A black light: Anyone and everyone that lives in the Phoenix metro area should have their own black light as a first line of defense against our native scorpions. We carry black lights in three sizes and the mini for $11.99 fits perfectly in a Christmas stocking, leaving room for plenty more goodies.
Glue traps: For the person who wants to know what's there when they're not. A glue trap does the trick for only 99¢! It catches crickets, roaches, and scorpions when you're not looking.
New gloves: Our applicator gloves make the perfect accessory for any DIY enthusiast.
Mini Ant Bait Station: Be prepared before your next barbeque or pool party. The Mini Ant Bait Station for $2.95 can keep the ants away from your next picnic or backyard gathering.
The classic mouse trap: Who doesn't love catching a mouse? Perfect for eliminating those cat and mouse games and it's extremely affordable at less than $3.
Blackout trays: The secret weapon for detecting bed bugs before they spread, blackout trays at just $5.99 are good for those who will be traveling. Placed in a hotel room or anywhere else you might be staying, the trays will trap bed bugs before they get to the bed!
Bed Bug Travel Spray: The spray makes a great companion gift to the blackout trays or a stand-alone stocking stuffer for the frequent traveler. It fits nicely in a purse or small carry on, and proves to be a great defense against the spread of bed bugs. Sprayed in suitcases, brief cases, and handbags before packing, it keeps the little buggers from hitching a ride home.
As a family-owned business operating in Arizona for more than 36 years, we appreciate our customers and the trust they put in us to help them with their do-it-yourself pest and weed control projects.
Bug & Weed Mart has stores located in Mesa, Phoenix, Gilbert, Scottsdale, and Tempe. Make note that between Christmas and New Year's, all our stores except our Tempe store will be closed from December 22 – January 1. Prior to the holidays, we will be open regular business hours should you need to do any last minute shopping.
Wishing all a bug free holiday season and Happy New Year!