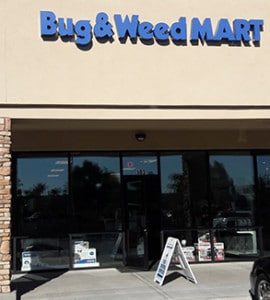 Do It Yourself Pest Control Tempe AZ
Bug & Weed Mart Tempe is located in the Fry's shopping center on the northwest corner of Baseline & McClintock. We are right across the street from Chapman Chevrolet.
We have test strips so you can trap insects and bring them into our store so we can identify what they are and sell you what you need to get rid of them. If you have weeds, we can let you know the schedule you should be following when using pre-emergent so that weeds are no longer a problem.
If you need help figuring out why you now have bugs you never had before, we can help you figure out how to get rid of them. We will give you the advice you need so you can take care of all your bug and weed issues by yourself.
Our products are professional strength, while still safe enough to use around your family – including your children and pets. Stop in at our Tempe Bug & Weed Mart location today to see how we can help you get rid of any bugs and weeds that might be bugging you.
Marcello Neria
3 weeks ago
friendly and knowledgeable staff. I bought foam insecticides and they provided me with a flyer than had loads of useful information. I've never...
They are a great resource to have when it comes to do it yourself 🐛and weed maintenance. They have great products and they are...
Michael Paul
2 months ago
Lady was very knowledgeable and had almost everything I needed but was super nice and told me where I could go to get this and...
This place is so great. I've been going here for 25 years. They are so helpful when I have issues with bugs and...
Janine Carrasco
a year ago
Your one stop shop for methods if getting rid weeds and pests. Super knowledgeable staff.