CAUTION! Using sterilants might not be the answer!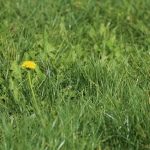 When it comes to preventing weeds, most of us want the same thing: kill the weeds we see and prevent them from coming back. The truth is, there are very few (affordable) products that can do both: kill AND prevent. So the questions often come up: Can I sterilize the soil? Is using sterilants the best solution for me? 
Yes, you can use sterilant, but maybe it's not the best solution for you. Sterilants will kill the vegetation that you treat now, and work for a year or more following the application. But beware: Sterilants creep, or travel in the soil, well beyond where you apply them…up to 30 feet. What does this mean? It means that if you apply a sterilant in your back yard, it may also kill your desired vegetation…and that of your neighbors, too!  If creep isn't an issue, then using sterilants might be fine. We can help you find the right product for you. But if you are worried about ruining nearby vegetation, we have other options. 
Using professional-strength pre-emergents and weed killers (post-emergents) to handle your weed problems is the best way to make sure you can control what is getting killed in your yard. Come in to any of our Valley-wide locations today and let us show you how to safely and effectively control weeds, without using potentially harmful sterilants.