When people find scorpions in their homes or in their yards, they often ask:
What attracts scorpions to my home (and not my friends' houses –  or so they say)?
What is different about my home that scorpions find interest interesting?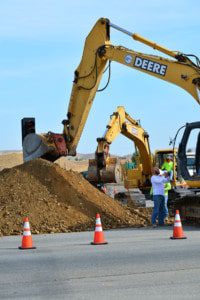 What attracts scorpions?
One reason could be nearby construction activity. With the recent construction of the Loop 202 freeway extension project in the Ahwatukee area of Phoenix, residents claim their homes are being overrun by scorpions.
Cities that "rejuvenate" business and housing areas also contribute to this fascinating scorpion behavior. Also, any former agricultural area (farms, fields) turned into housing or commercial development often experiences the same.
Neglected yards are also a culprit. Over-watered, un-pruned vegetation is a natural attractant.  Wood and debris piles seem to beckon scorpions, as well.  Think about it, they are seeking what we seek: food (other insects), water, and shelter (yes, our warm homes!).
Why do scorpions move?
Scorpions tend to live in the landscaping (especially in rocks). Because they are very sensitive to the light, they need to live where they can hide from it during the day. When scorpions' natural habitat is disturbed, they look for a new home. And if yours is close by, that's good enough for them.
Scorpions need soil to be able to survive and they need to be able to burrow under the ground. Even though they can go for a year without any water, they often live close to water because their prey lives in those areas.
If you are seeing scorpions (or seeing MORE scorpions than usual), we can help you get rid of them. As the Loop 202 project is close to both our Gilbert and Tempe stores, we are ready to help you! Our Valley-wide locations are open 6 days a week.