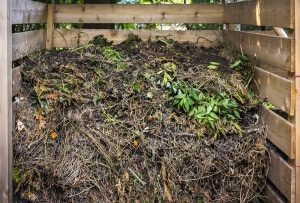 If you're focused on healthier living as one of your New Year's resolutions, you may want to consider starting an organic garden. There's nothing better or more convenient than preparing a meal with fresh ingredients picked right from your own backyard and free of chemicals. Whether you plant a mix of herbs, vegetables, or fruits, there are options available for keeping things natural, using organic garden pest control.
It can be frustrating when unwanted pests damage or destroy your hard work. Fortunately, there are a variety of organic and natural products available that are safe for the environment and will still do a good job protecting your plants. But before considering organic pest control products, it's best to begin planting in a rich soil that offers natural fertilizers.
Composting is one of the best methods for making a nutrient rich soil that can also help ward off pests. To get started, set aside an area in the yard where you can build a compost pile. Fruit and vegetable scraps, grass and plant clippings, leaves, and old plants are all great for composting and provide an excellent foundation for growing an organic garden.
Once you've prepared the garden soil by adding the compost, determine what you would like to grow and begin planting. After the plants have taken root and are beginning to grow, it's good to add organic garden pest control to keep plants protected and help them flourish. Bug & Weed Mart carries 21 organic or natural pest control products. They're all professional-grade and EPA-registered, as well as safe and easy for the DIY gardener to use.
One of the more popular organic garden pest control products contains a naturally occurring pesticide made from a chrysanthemum flower. It's highly effective, but until recently they only lasted about an hour. Bug & Weed Mart carries the latest formulation, which lasts 28 days. These products can be used to safely and naturally eliminate a variety of insects, including mosquitoes, flies, and gnats.
To learn more about organic products for pest and weed control, visit your neighborhood Bug & Weed Mart store and speak with one of our DIY experts.