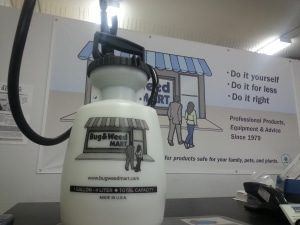 When you do it yourself, you need the right tools. If you're going to spray for bugs and weeds, the right tool to have is a pressurized, pump-up tank sprayer.
Like any mechanical tool, your pump-up tank sprayer needs basic care to keep it working. Many of our customers find that the sprayer they bought from us years ago still works great, even after 20 years! That's because (1) the sprayer was a quality item, and (2) it was maintained by its owner.
To maintain your pump-up tank sprayer, you don't need to buy cleaning kits, brushes, detergents, and the like.  Just follow these guidelines:
After finishing every application, empty any remaining solution from the tank. Remove/unscrew plunger tube, invert tank, & allow tank to drain completely.
Then, pour 8-12oz of "rinse" water into the tank. Gently shake the tank a few times to evenly disperse/rinse. After re-inserting the plunger tube, pump a few times, and spray out the "rinse" water completely.
NEVER leave anything mixed in your sprayer (or ANY container) for storage. Tempting as it may be, this is a bad idea. Instead, mix only what you need for each application. Excess/unused mix = lost $.
Once every year, bring your empty, clean tank sprayer to us for a checkup.
We will look it over and service it with a free lube. We'll also check for leaky clamps, cracked hoses, and clogged spray tips. If your sprayer can't be fixed, we have several great models to choose for your replacement pump-up tank sprayer.
Bug & Weed Mart has been helping Valley residents control their pest and weed problems for more than 36 years.  Stop into any of our Valley-wide locations, open Monday-Saturday.