Sometimes, you just have to think like a bug or a weed! We do that a lot here at Bug & Weed Mart, as we help people solve their pest and weed problems. We carry 21 organic or natural products so you can find the natural solution to pest and weed control that works best for you.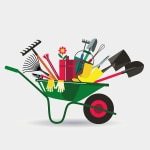 Using a hoe and shovel (elbow grease) is one of the best natural methods of weed control, though preventing them from popping up in the first place can also be accomplished. Oftentimes, we forget some simple, around-the-house actions we can take to naturally prevent pest and weed infestations, such as:
relocate wood piles, building materials, etc, away from the side of house
repair leaking hose bibs, sprinklers, hoses
trim vegetation away from home (nothing closer than 18" to your home)
sweep porches & patios
mow/trim lawn
haul away dead/unwanted vegetation, fallen fruits/nuts
remove cobwebs from the underside of awnings, patio covers & beams
dispose of animal poop as frequently as possible. Dispose of responsibly
keep garbage and recycling containers sealed at all times
shake out shoes and clothing used for outdoor projects before bringing inside
clean up any food scraps following outdoor gatherings
use the yellow "bug" light bulbs in outdoor light fixtures
get rid of standing water after any rains (mosquitoes and scorpions); make sure any rainwater drains away from your home and be sure to fix any dripping hose bibs (termites); make sure air-conditioning condensation/drain lines discharge water away from your home (termites)
caulk or seal areas through which bugs can enter: pipes, door thresholds, base of house that meets the stem wall, around dog doors (all pests)
Then, if those pests and weeds continue to bug you, come see us!  We are happy to help you 6 days a week at our Valley-wide locations.
Bug & Weed Mart. We help you get rid of all your pest and weed problems.