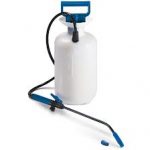 Bug & Weed Mart sells the tank sprayer you need
You probably already know that Bug & Weed Mart sells professional-strength, EPA-approved, safe products for all of your pest and weed control needs. But what you may not know is that we also sell top-notch, affordable tank sprayers so you can easily apply these products. All of our handheld tank sprayers, from 1.5qt size to 2 gallons, are made by B&G Equipment Company, in Jackson, GA. These Made in the USA tanks are lightweight, compact, durable, and extremely efficient, ensuring your pest and weed control treatment is applied safely, uniformly, and effectively.
Does Price = Quality? YOU be the Judge!
Since going into business in 1979, we have sold over 35,000 tank sprayers. In that time, we have learned a lot about what qualities to look for. Here are just a few:
Tank body – simply put, a tank is a tank is a tank; care for your tank by completely emptying the tank when finished spraying.
Hose Construction – how does the hose feel when you pinch it? Thin & flimsy, ready to crack? How long is the hose, too short?
The "Magic" Wand – the wand will not resemble magic…ever…if it's not made of brass. Plastic wands wear out in a hurry.
Spray Nozzle – not to be overlooked! A "coarse" spray emits way too much water & drips endlessly; very messy! Demand a fine mist, better yet, seek a supplemental Fan Spray Tip for even better managed applications.
Replacement Parts – we carry every single part for our sprayers. We also show you exactly how to maintain your sprayer for a life of 10-20 years!
Service – whether or not you bought your sprayer from us, we are happy to help you repair your tank sprayer at any Bug & Weed Mart.
Finally: Never leave unused materials in your sprayer. To properly clean after use, pour 8oz of tap water into the empty tank, insert and tighten the plunger tube, shake briefly, then pump and spray the water out through the wand/nozzle. Do NOT just put water in, then dump it out– it is important to "flush" the sprayer by spraying the rinse water through the wand/nozzle to remove any chemical residue eating away at your sprayer.
Bug & Weed Mart has several Valley-wide locations each open 6 days a week.  Come in today, call, or visit us anytime.