GREAT NEWS! WE CAN SHOW YOU HOW TO KILL NUTGRASS!
If you have lived in Arizona for a few years or more, you likely have dealt with the pesky, fast-growing, invasive weed known as Nutgrass. Nutgrass can be a tricky plant to control, and many times we may not even recognize it, as it is not just another broadleaf weed or grass (such as dandelions, bull thistle, spurge, foxtail, Bermuda grass, etc). We may think it looks like some grass seeds gone astray because it grows easily in the cracks of cement. But it's not.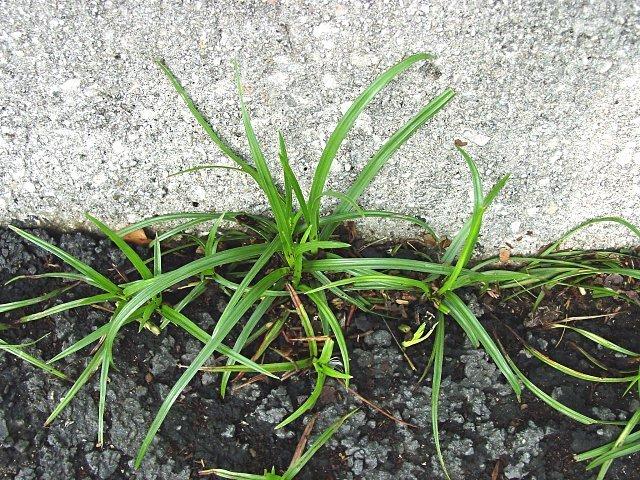 In order to recognize Nutgrass, look for these clues:
-rich dark green-colored, triangle-shaped leaf (may resemble a tiny palm tree)
-grows 2-4x faster than your lawn, making it look like you need to mow yard 2-3x/week
-will produce a blossom with additional growth
-grows well in rock beds and in the cracks of cement
-treatments with Roundup are futile; it simply will not kill Nutgrass
Don't fret, we can help! At Bug & Weed Mart, we carry all the same professional-strength herbicides, pre-emergents, sterilants, and post-emergent weed killers that any professional landscaper would use. We have a knowledgeable manager at every one of our stores to give you the accurate advice you need. And he will show you exactly how to apply treatments so you will achieve the results you seek.
Come into any of our 5 Valley-wide stores, open Monday through Saturday, or visit us at bugweedmart.com
-do it yourself
-do it right
-do it for less
Gilbert
Gilbert & Pecos
3107 S Gilbert Road
Gilbert, AZ 85296
480.632.1614
Mesa
Gilbert & Southern
1356 S Gilbert Road
Mesa, AZ 85204
480.497.0535
Phoenix
Central & Camelback
5030 N Central Avenue
Phoenix, AZ 85012
602.265.0046
Scottsdale
Scottsdale & Shea
7127 E Becker Lane
Scottsdale, AZ 85254
480.609.1810
Tempe
Baseline & Rural
950 E Baseline Rd #104
Tempe, AZ 85283
480.820.5034